Update: The eBook is no longer for sale on Amazon's site, but Amazon insists they didn't remove it. Rather, the author removed the book himself.
Already with enough egg on its face to endanger a species of birds, Amazon.com's WikiLeaks headaches don't appear to be going away. Having ousted the whistleblower's website from their web hosting service under Sen. Joe Lieberman's orders, Amazon has now taken to publishing the same cables it was insisting just a week ago were cause for termination.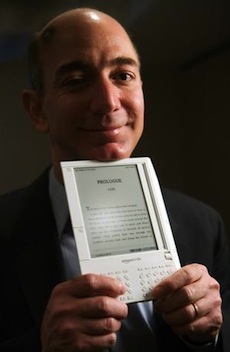 Strange but true, Amazon's UK website, Amazon.co.uk, began selling an eBook for its Kindle eReader that includes copious excerpts of the diplomatic cables along with the author's analysis. The eBook is, according to the website, available only in the UK.
Bizarrely, Amazon had just gotten done claiming that since WikiLeaks "doesn't own or otherwise control all the rights to this classified content" they had no right to publish it online. Technically speaking this is not true because US government content cannot be copyrighted to begin with and automatically defaults to the public domain, but the claim seems doubly hypocritical now that they are selling a clear "derivative work" of the WikiLeaks cables on their site.
Antiwar.com launched a boycott against Amazon last week to protest its ouster of the WikiLeaks website, and removed all advertisements for the retailer from the site. Amazon has denied that Sen. Lieberman's order to remove the site had anything to do with them removing it just hours later, but maintains it was a decision based on their own objections to WikiLeaks' content.