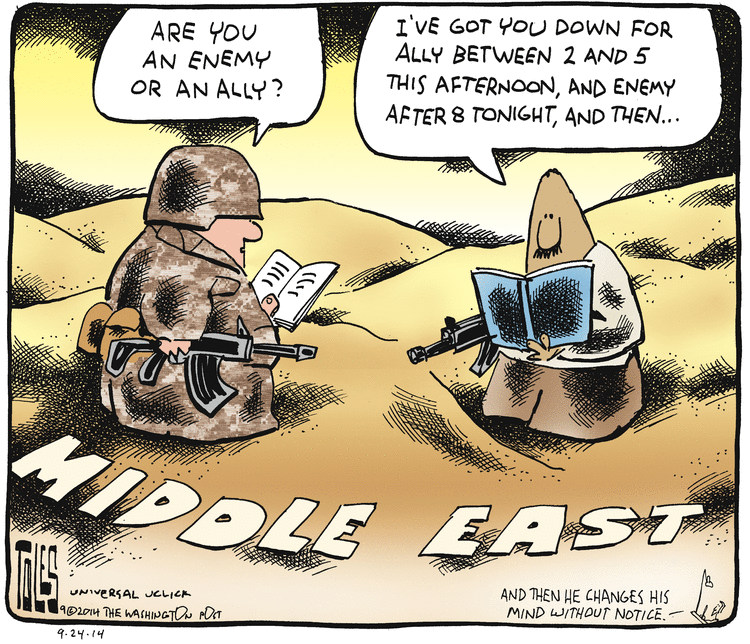 Obama loves to preen as if he is spreading peace, freedom, and democracy with his bombs.  But there is no reason to presume that bombing Syria is not as idiotic as it appears.
Thus far, the Establishment media is largely playing a lapdog role. A Washington Post headline today proclaims: "Obama the reluctant warrior, cautiously selling a new fight."  So we're supposed to think the president is a victim of cruel necessity, or what?
A New York Times headline today announces: "In Airstrikes, U.S. Targets Militant Cell Said to Plot an Attack Against the West."  "Said to" is the perfect term –  perhaps sufficient to alert non-braindead readers that something may be missing (i.e., evidence).
The Tom Toles cartoon to the left explains Obama's policy far better than anything that has yet come out of the White House.
As usual, Congress has thus far utterly disgraced itself on this carnage.  Even though the vast majority of members have (unjustifiably) safe seats, they left town for vacations and maybe a little vote hustling.
When will Americans learn the actual rationales that drove Obama's decision to bomb Syria?  Lord knows we have not yet learned many of the sordid details behind George W. Bush's decision to invade Iraq in 2003. And the Obama folks are as good at coverups as the Bush team. Unfortunately, the largely toothless Freedom of Information Act poses no threat to expose the war cabal. Leaks from inside sources are the best bet for the truth outing.  But even if that occurs, it may be far too late to curb the damage.
More at www.jimbovard.com    On Twitter @jimbovard