Reprinted with permission from Greg Mitchell's newsletter Oppenheimer: From Hiroshima to Hollywood.
Also posted today at my "other" newsletter.
If you're like me, you may not have been aware that U2 is now playing one of those weeks-long "residencies" in Vegas, joining the likes of Elvis, Wayne Newton and Celine Dion. Another case of, if it pays i Vegas it stays in Vegas. And they are opening the new billion dollar "Sphere" performance space at the Venetian Hotel, where I resided about 20 years back only because it was the site of a media conference. (Oooh, Las Vegas – ain't no place for a poor boy like me.) To top it off, they just released a new single to mark the occasion, a kind of a throwback to earlier U2 days, with hints of a muscular Blondie, but with overly familiar Bono posing.
That's all fine, I suppose, but the title of the single, given my stated interests, caught my eye: "Atomic City."
Maybe a post-Oppenheimer protest song as new attention has been drawn to the hundreds of horribly health damaging nuclear tests above ground at the Nevada Test site just 65 miles from Vegas? Not a chance. Instead it's a rather silly, very commercial booster for the Strip – and the new Sphere itself – complete with a Sinatra reference. A little nuclear blast imagery at the very start might offend you, or not. Musically, it is U2 generic and lyrically full with "blah blah blah," as Bono sings.
But we loved Bono's daughter Eve Hewson in new Apple TV music-soaked movie, "Flora and Son."
Now, it's true that Vegas, while once known as "Atomic City," was not exactly downwind from the blasts and further saved by the U.S. re-scheduling some shots if weather patterns threatened to carry in that direction the radioactive fallout that threatened so many others. So while Vegas voyeurs got to gawk, poor natives downwind took a full dose. In fact, Vegas got its "Atomic City"nickname as it became a destination for nuclear tourism, as thousands flocked there to get a nearly front row seat for a mushroom cloud rising in the distance (they didn't have to live under it). From a Vegas history site.
The Las Vegas Chamber of Commerce issued a calendar for tourists, listing the scheduled times of the bomb detonations and the best places to view them. The Sky Room at the Desert Inn, offering a panoramic view of the Nevada horizon, was a favorite watch spot of tourists, as was nearby Mount Charleston. Many tourists packed "atomic box lunches" and had picnics as close to ground zero as the government restrictions would allow. On the eve of detonations, many Las Vegas businesses held "Dawn Bomb Parties." Beginning at midnight, guests would drink and sing until the flash of the bomb lit up the night sky.
In addition to generating tourism, the Nevada Test Site also brought thousands of military personnel, thousands of jobs and more than $176 million in federal funds to the region, two-thirds of which went back into Las Vegas' economy. For twelve years, an average of one bomb every three weeks was detonated, at a total of 235 bombs.
Anyway, I could go on, but I think I'll quit here and simply give you the new U2 vid along with this brief video of Vegas voyeurism and a full written account of the Atomic City daze, plus some priceless photos when it was Viva Las Vegas for armchair Oppies – maybe very "ha ha ha" then, not so funny now as the full toll of the nuclear experiments becomes better known. You might also check out my legacy of Oppenheimer's bomb newsletter.
Even Better Than the Real Thing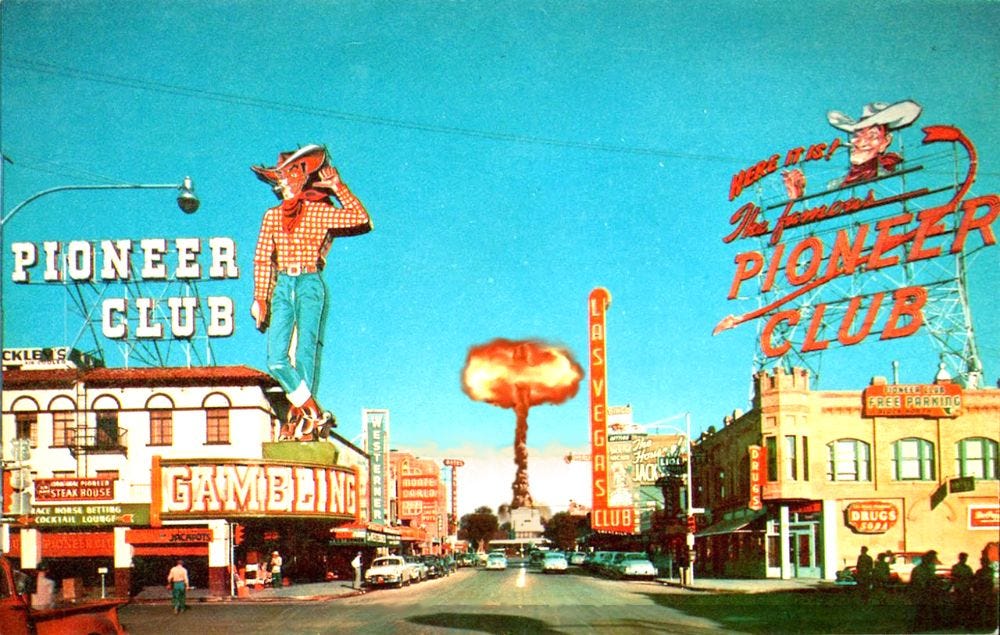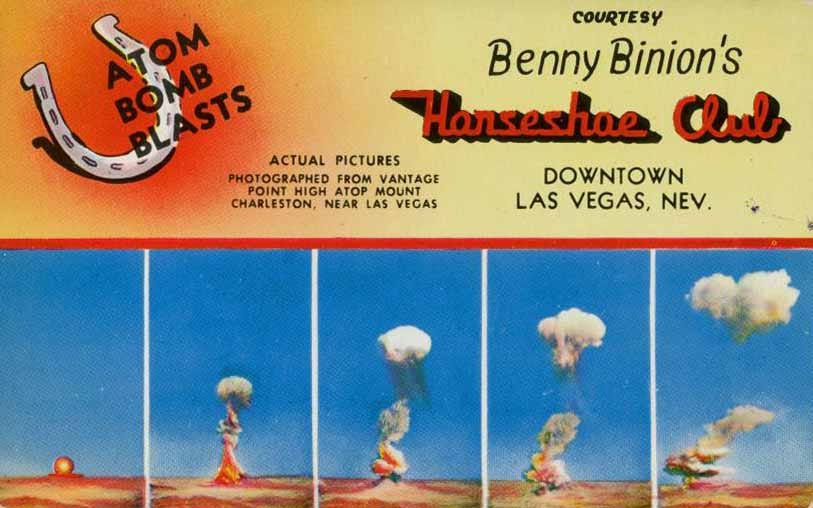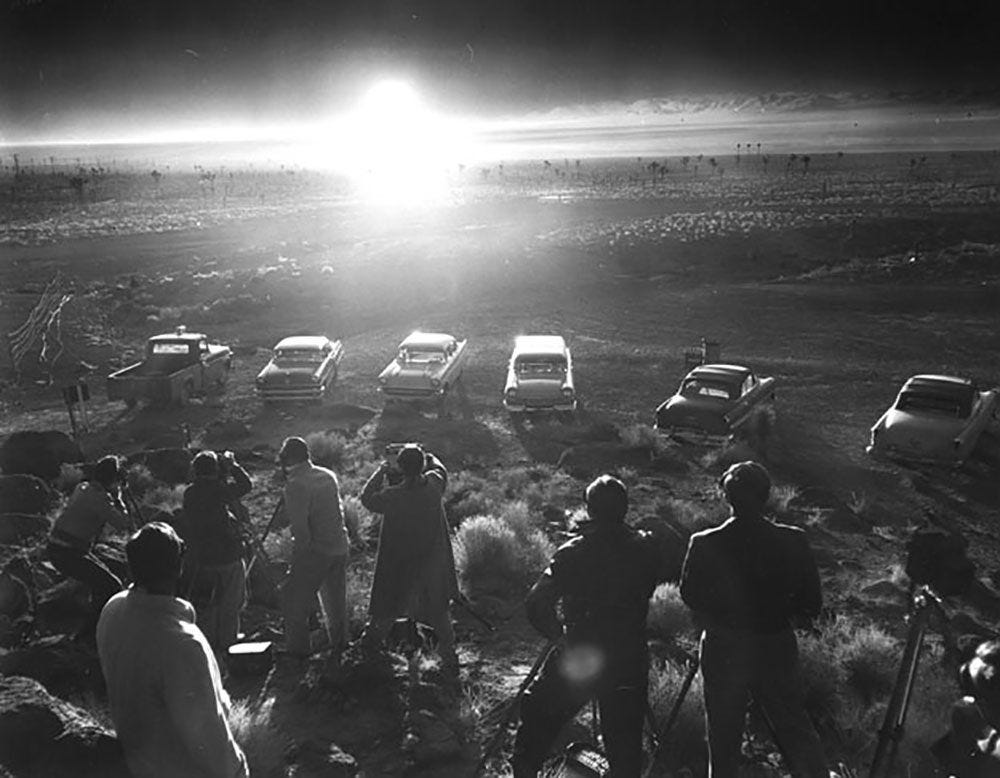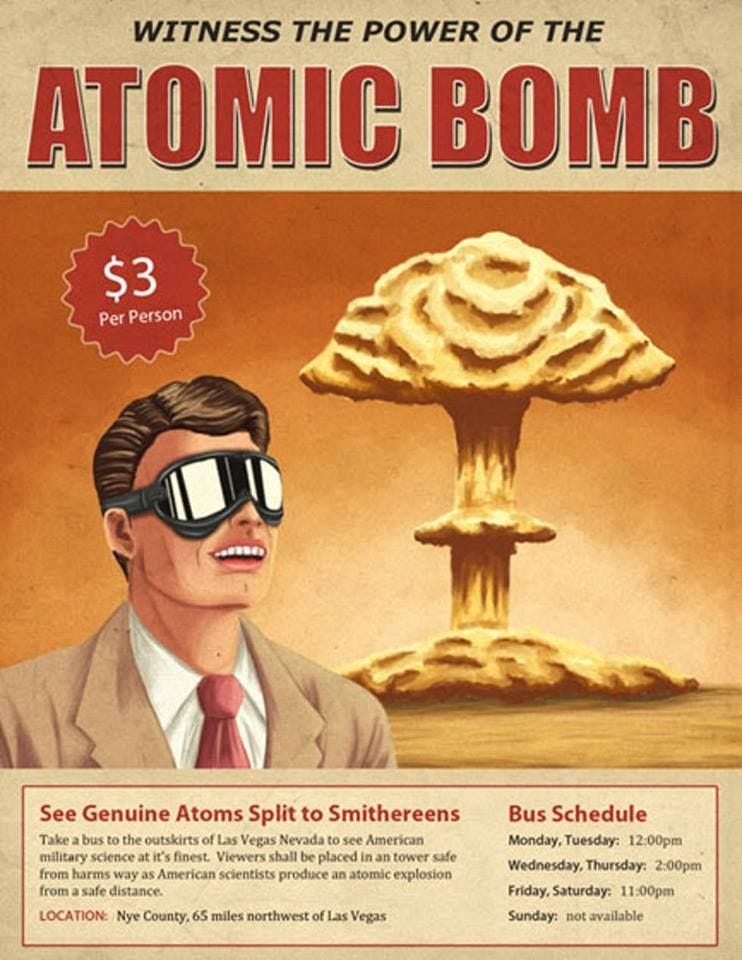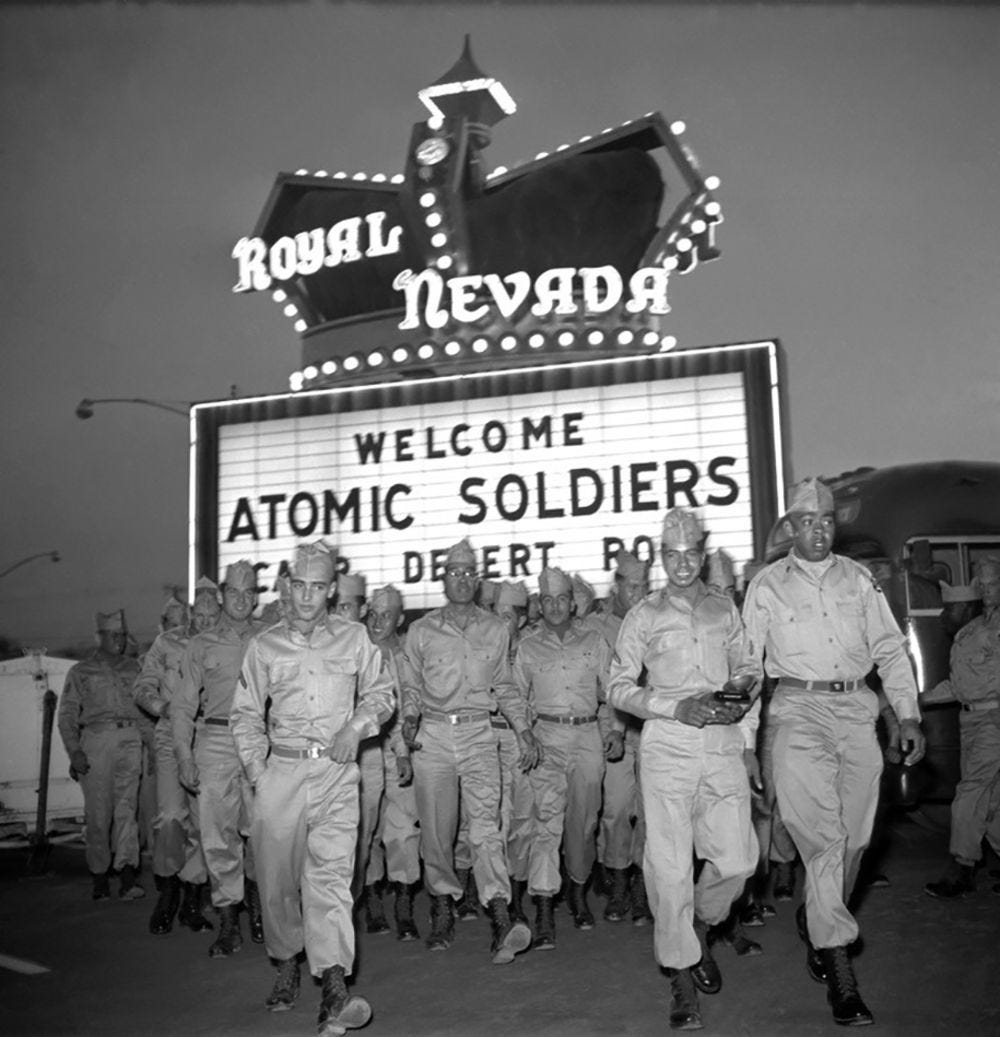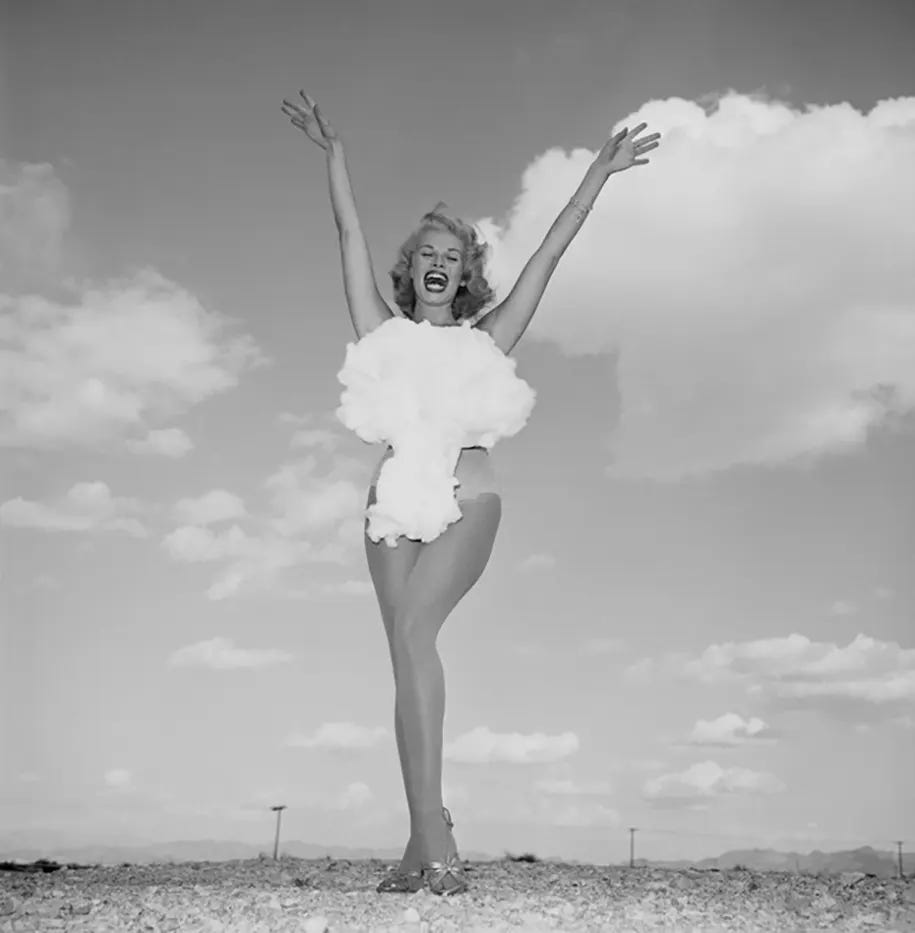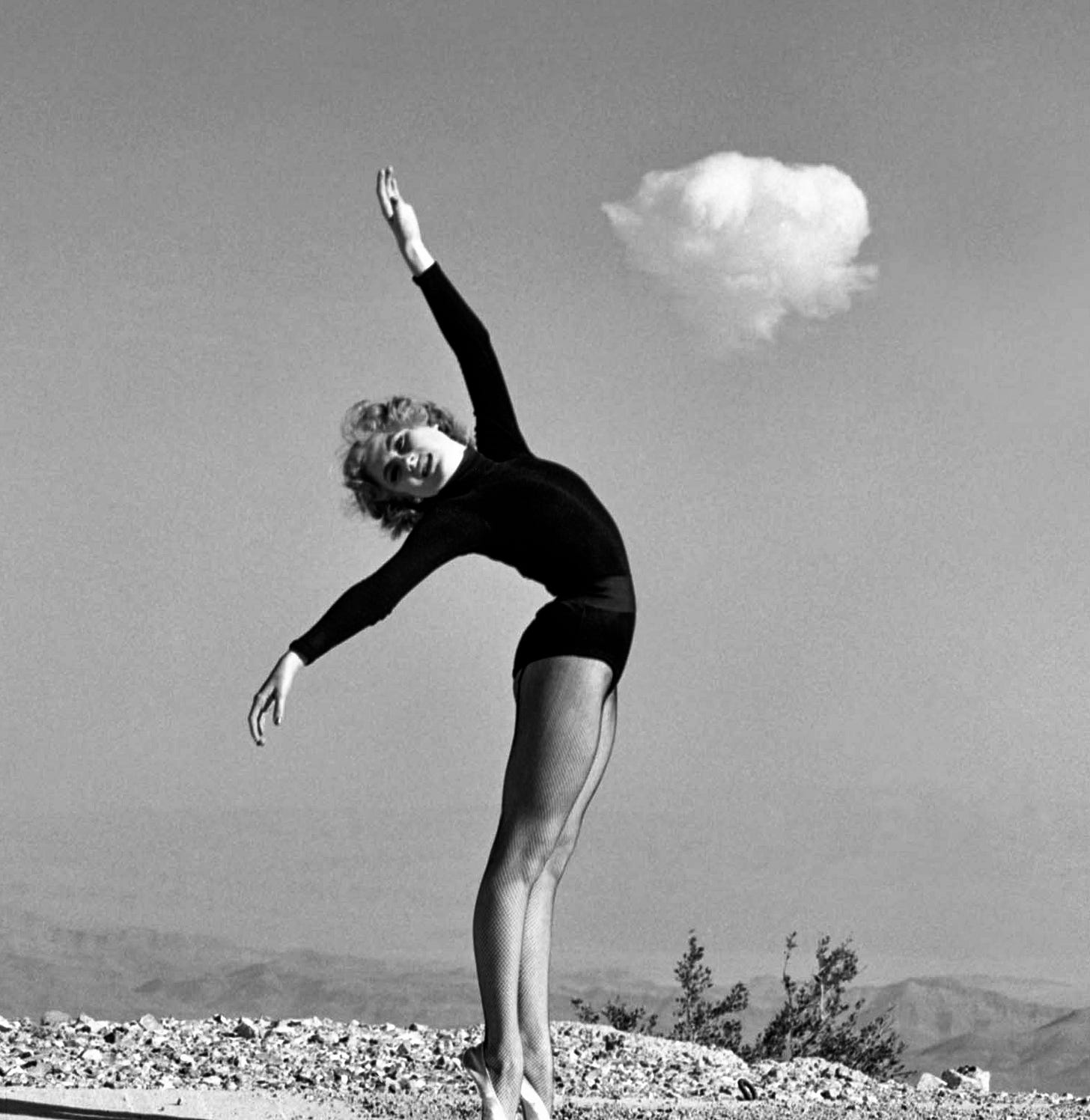 Thanks for reading Oppenheimer: From Hiroshima to Hollywood! Subscribe for free to receive new posts and support my work.
Greg Mitchell is the author of a dozen books, including "Hiroshima in America," and the recent award-winning The Beginning or the End: How Hollywood – and America – Learned to Stop Worrying and Love the Bomb, and has directed three documentary films since 2021, including two for PBS (plus award-winning "Atomic Cover-up"). He has written widely about the atomic bomb and atomic bombings, and their aftermath, for over forty years. He writes often at Oppenheimer: From Hiroshima to Hollywood.